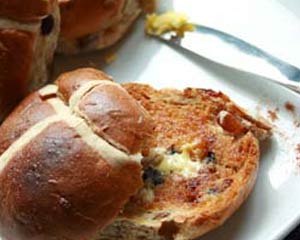 Hot Cross Buns
Recipe submitted by Boris on March 31st, 2008
Making these hot cross buns will make your house smell really delicious. These light buns are easy to make and the recipe yields a lot (16 buns). This recipe is great for children, they will enjoy helping make these hot cross buns because most of the work is away from the oven. This is a great Easter recipe and it never fails!
Prep time:
2 hours 10 minutes
Cook time:
20 minutes
Servings:
16 buns
Ingredients:
Bun Ingredients

15g dried yeast
300ml milk
4 cups plain white flour
1 teaspoon cinnamon
90g butter cut into pieces
1/4 cup sugar
1 cup dried sultanas
1 egg

Cross Batter
1/2 cup flour
5 tablespoons of water

Glaze
1/2 cup water
1/4 cup sugar

Directions:
1. Heat milk until just warm in a saucepan. Remove from heat and sprinkle yeast over the milk and set to the side on the bench.

2. Sift flour and cinnamon. Add butter and rub in using your fingers until mixture looks like breadcrumbs. Then add sultanas and sugar.

3. Whisk egg into milk and yeast. Then add the milk mixture to the flour mixture. Mix until combined.

4. Place mixture onto lightly floured board and kneed until smooth and elastic (about 10 minutes). Place dough in a large greased bowl. Cover and leave to rise in a warm place. It is ready once it has doubled in size, which should take about 45 minutes.

5. Punch down dough to release gas and then knead for a couple of minutes. Cut dough into 16 pieces of the same size. Knead and form into balls. Place balls together on a greased tray. Cover and place in warm spot and allow to double in size.

6. Turn on oven and preheat to 220 degrees C. Whisk the cross batter of flour and water together until smooth. Place in piping bag. (I use a small plastic bag and cut off a small bottom corner). Pipe on the crosses. Bake at 220 degrees C for 10 minutes. Turn the oven down to 200 degrees C and bake for a further 10 minutes.

7. Place glaze ingredients in a sauce pan and bring the boil stirring constantly. Then reduce heat to low and allow to simmer for a further 2 minutes. Brush liberally over buns once they are removed from the oven.

Enjoy!



Average Rating:

(3 votes)


View more Easter Recipes
You might also like to try...