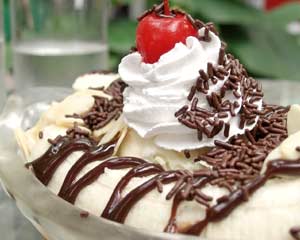 Chocolate Sauce
Recipe submitted by Wifey on April 5th, 2009
Make your own chocolate sauce with this economical recipe. You probably already have the ingredients. It's very good on ice cream and doesn't require actual chocolate, so super easy too. What a winner!
Prep time:
3 minutes
Cook time:
10 minutes
Servings:
plenty
Ingredients:
1T cocoa powder
1T cornflour
2T sugar
1 cup milk
1t butter
1/4t vanilla essence
Directions:
1. Combine dry ingredients in a saucepan. Slowly add milk while stirring. Make sure there are no lumps (use a whisk if necessary).
2. On a medium heat bring mixture to a boil, stir constantly. Keep stirring and simmer until mixture thickens (a couple of minutes).
3. Keep stirring while you add butter and essence. Serve over your favourite dessert.
Average Rating:

(6 votes)


View more Dessert Recipes
You might also like to try...