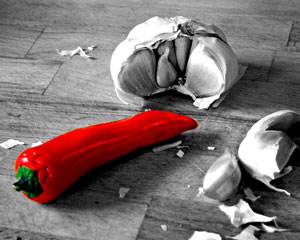 Charlie's Choice Chili Con Carne
Recipe submitted by Charlie on May 8th, 2011
It's easy to make chili with a good old packet chili seasoning mix, but I reckon there's something pretty satisfying about cooking from real ingredients. Once you've made your chili, there are heaps of primo ways to have it: nachos, tacos, enchiladas etc.. Just be sure to serve it with cheese, sour cream, salsa and guacamole. Leftovers (if you have any) go real well in toasties the next day - yum. Note: this recipe is pretty mild, if you wanna crank up the heat then add more chili!
Prep time:
20 minutes
Cook time:
1 hour
Servings:
5
Ingredients:
2 tbsp oil
1 large onion, chopped
4 cloves garlic, chopped
500gms beef mince
salt and pepper

1 tbsp cumin, ground
1 tbsp paprika, ground
1 tsp salt
1 tsp onion powder
1/2 tsp garlic powder
1/2 tsp oregano
1/4 tsp sugar
1/4 tsp cocoa
1/4 tsp pepper
1/8 tsp chili powder

2 tbsp tomato paste
1 can tomatoes, diced
1 can red kidney beans
1/2 cup corn

Directions:
In large pot over medium to high heat, add oil, onions and garlic and cook until tender.
Add mince, season with salt and pepper and cook until browned.
Combine all spices / powders in small bowl then mix well into mince.
Cook for a minute or two then add the tomato paste, can tomatos, kidney beans and corn.
Reduce heat to low and bubble away for 1 hour or until the desired thickness is achieved.
Average Rating:

(1 votes)


View more Mexican Recipes
You might also like to try...