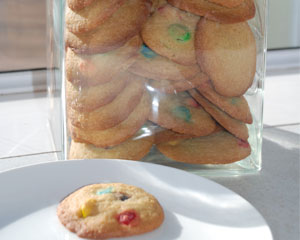 M&M's Cookies
Recipe submitted by holidayLOVER on July 5th, 2009
If you love M&M's then you'll love these cookies. These biscuits taste just like the M&M's biscuits you get at Subway. The candy-coated pieces of milk chocolate really make these biscuits fun, and would be ideal for a special occasion such as a kids birthday party. The only tricky part of the recipe is trying not to eat the M&M's before they make it into the cookie dough.
Prep time:
10 minutes
Cook time:
9 minutes
Servings:
50 small biscuits
Ingredients:
3/4 cup white sugar
3/4 cup brown sugar
250g butter (room temp)
2 eggs
2 teaspoons vanilla essence
2 1/4 cups plain white flour
1 teaspoon baking soda
1 teaspoon salt
1 packet of M&M's (250g)
Directions:
Combine white and brown sugar into a bowl with the butter and cream (about 2 minutes with an electric eggbeater on high).
Add 1 egg at a time and beat into mix. Finally stir in vanilla essence.
Combine flour, baking soda and salt in another bowl and mix together before adding to wet mix. This dough tastes so good you know the cookies are going to be yum!
Finally stir in the M&M's.
Use a level tablespoon to measure out the cookie dough. These cookies will spread a little so leave a bit of space between each cookie. Bake on a oven tray lined with baking paper at 180°C for 8 to 10 minutes until golden brown.

Average Rating:

(13 votes)


View more Kids Recipes
You might also like to try...