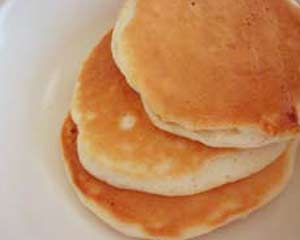 Pikelets
Recipe submitted by chchGIRL on July 24th, 2006
Pikelets are a great morning breakfast treat hot from the pan or cool down and serve with cream and jam for an afternoon tea.
Prep time:
15 minutes
Cook time:
15 minutes
Servings:
4
Ingredients:
1 cup self raising flour
2 tablespoons sugar
1 egg
2/3 cup milk
1 tablespoon butter
plus butter for cooking

Directions:
1. Sift flour into a mixing bowl and add sugar. Mix together egg and milk and whisk into flour.
2. Melt butter in your pan and add to mixture.
3. Add 2 tablespoons of mixture for each pikelet to the heated pan. Cook for approximately 2 minutes on medium heat, until bubbles appear on the surface of the pikelet. Turn over pikelet and cook until other side is golden.
4. Serve with your favourite jam and some more butter.


Other serving suggestions

-Add pieces of fruit into your pikelet mix (like banana or blue berries)
-Serve with slices of lemon and sugar to sprinkle, maple syrup (very American but delicious), fresh strawberries and cream, ricotta and marmalade

Average Rating:
(11 votes)


View more Brunch Recipes
You might also like to try...