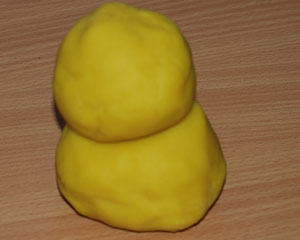 Playdough 2
Recipe submitted by Rick on April 26th, 2010
Easy and economical to make. This playdough lasts for months if you keep it in an airtight container when not in use.
Prep time:
5 minutes
Cook time:
5 minutes
Servings:
fills several playdoh containers
Ingredients:
1 cup flour
1 cup water
1/2 cup salt
1 tablespoon cooking oil
2 teaspoons cream of tartar
A few drops of food colouring
Directions:
Combine ingredients. Heat in pot on low heat, stirring constantly until mixture forms a soft ball. Allow to cool and then knead to eliminate grainy texture. Store in airtight container.

Average Rating:

(2 votes)


View more Kids Recipes
You might also like to try...