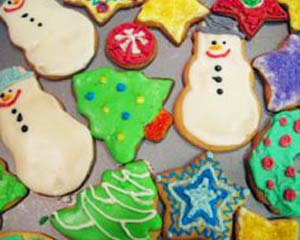 Christmas Cookies
Recipe submitted by Wifey on August 14th, 2008
This is a great plain vanilla cookie recipe that I have been using for years. Not everyone likes gingerbread cookies and this recipe is super easy, creating perfect cookies every time! Can be used to create bunny cookies for Easter or heart cookies for Valentines. Undecorated Christmas cookies can be stored in an air tight container for a couple of weeks, until ready to decorate.
Prep time:
45 minutes
Cook time:
15 minutes
Servings:
depends on cookie cutter
Ingredients:
125g Butter
1 cup Caster Sugar
1 Egg
2 teaspoons Milk
1 cup Plain White Flour
1 1/2 cups Self-raising White Flour
1 teaspoon Vanilla Essence

Icing sugar, food colouring, and candy decorations to decorate.

Directions:
1. Cream butter, essence and sugar using an electric mixer. The mixture should be light and fluffy. Beat in egg and milk. Sift in flour and stir to combine.

2. Turn out on to a floured surface and knead dough until firm and well combined ball. Cover and refrigerate for half an hour.

3. Preheat oven to 180 degrees Celsius (350 degrees Fahrenheit). Roll out dough on a floured surface until 5mm thick. Use cookie cutter to cut out shapes. Place shapes on a oven tray covered with baking paper. Bake for approximately 12 to15 minutes until golden brown. Allow to cool before decorating.

See my "Gingerbread Men" recipe for a simple icing recipe.
Average Rating:

(12 votes)


View more Holiday Recipes
You might also like to try...