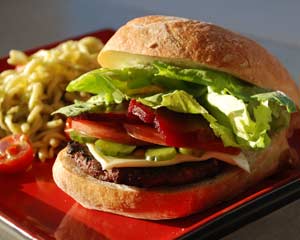 Beef Burgers
Recipe submitted by Charlie on December 8th, 2008
You can't go past a good beef burger cooked on your bbq this summer. This is an easy recipe that will impress your crew. For the best result you want to use good quality beef mince.
Prep time:
10 minutes
Cook time:
8 minutes
Servings:
10 burgers
Ingredients:
500g beef mince
1 teaspoon beef stock dissolved in 1/4 cup water
1 teaspoon worcestershire sauce
1 teaspoon soy sauce
1 tablespoon tomato sauce
1 egg, light beaten
1 teaspoon black pepper
1/2 cup bread crumbs
1 small onion, diced
2 cloves garlic, crushed

Directions:
Add all ingredients into a bowl and then use your hands to make sure the mixture is well combined.

I like flatten out the mixture to about 1cm thick and then use a 12cm diameter bowl, upside down, to press out prefect circle beef patties. You can use baking paper or cling wrap between the patties to stack up so they don't stick to each other. Beef patties store well in your freezer too.

Make sure your patties aren't too thick otherwise they will be difficult to cook through properly on bbq. Also remember it has to go in a bun and with other burger additions and people need to fit their mouths around it. I find 1cm thick to be a good thickness.

Cook until cooked through...time depends on your bbq.
Average Rating:

(22 votes)


View more Barbeque Recipes
You might also like to try...