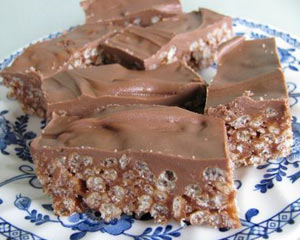 Mars Bar Slice
Recipe submitted by miacody on May 23rd, 2010
Great for kids birthday partys, school lunchs or something fun to do with the kids.
Prep time:
10 minutes
Servings:
10
Ingredients:
3 Mars Bars
90g butter
2 1/2 - 3 cups rice bubbles
200g melted chocolate (cooking or normal eating chocolate)
Directions:
Grease and line slice tin with baking paper
Melt Mars Bars with butter and mix with rice bubbles.
Pour mixture into tin.
Melt chocolate and pour over slice.
Let slice set in a cool place (or the fridge).
Remove slice from tin and cut into pieces.
Average Rating:

(3 votes)


View more Kids Recipes
You might also like to try...