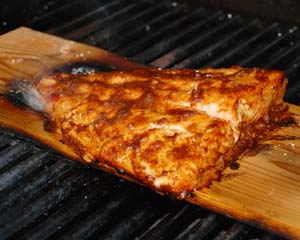 Cedar Plank Salmon
Recipe submitted by Charlie on March 2nd, 2009
Cooking your salmon on a bbq is really easy using cedar plank and the result is outstanding. The smoke adds another dimension to the flavour. You'd be hard pressed to find a better salmon in a first class restaurant. My marinade / basting sauce is optional but try it once and you'll be making it again and again. My family can't get enough of it!
Prep time:
1 hour 5 minutes
Cook time:
30 minutes
Ingredients:
marinade / basting sauce
1 tbsp sesame oil
1 tbsp soy
1 tbsp ginger
1 tbsp garlic
1 tsp chilli
1 tsp salt
1 tsp pepper
Directions:
soak plank at least 1 hr
brush both sides with olive oil
put on grill medium until just starts smoking
add fillet and cook on medium low for 20-30 mins or until done how you like
baste a few times, each time you check..
watch for fire and spray with water to extinguish flames
garnish with lemon slices and fresh dill
Average Rating:

(0 votes)


View more Barbeque Recipes
You might also like to try...