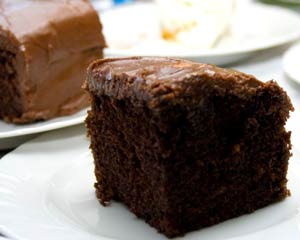 Chocolate Cake
Recipe submitted by maggie on September 22nd, 2008
Looking for a straight forward, basic chocolate cake recipe? ...well this is it! This recipe is easy to follow and comes out perfect every time. The cake has an excellent chocolate flavour and is nice and moist.
Prep time:
20 minutes
Cook time:
25 minutes
Servings:
1 cake
Ingredients:
150g butter (room temp)
1/2 cup caster sugar
2 eggs
1/4 teaspoons vanilla essence
2 tablespoons milk
1 cup white flour
2 teaspoons baking powder
2 tablespoons cocoa
Directions:
1. Cream butter, and sugar. Add in eggs, one at a time with a little of the flour. Add the vanilla and milk and mix.

2. Mix remaining flour, baking powder and cocoa in a separate bowl, then fold the dry ingredients into the wet.

3. Spoon cake mix into a greased 20cm diameter round tin and bake in a preheated oven at 180°C for 25 minutes.

4. Allow to cool in tin for a while then turn out to cool on a cooling tray. Ice with chocolate icing when cold.

Average Rating:

(75 votes)


View more Cake Recipes
You might also like to try...