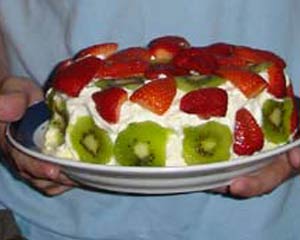 Grandma Taylor's Pavlova Recipe
Recipe submitted by t-rex on January 15th, 2007
Grandma Taylor made this pavlova every Christmas for our family Christmas lunch. The recipe works and the pavlova is a lot better than the store-bought variety.
Prep time:
40 minutes
Cook time:
1 hour
Servings:
1 pavlova
Ingredients:
3 Egg Whites
1 cup caster sugar
1 teaspoon vinegar
1 tablespoon cornflour
1 teaspoon vanilla essence

Directions:
Beat egg whites until stiff (forms peaks). Add sugar - heaped tablespoon at a time - beating well after each addition. Then beat for at least 10 minutes. This is very important. Then sprinkle vinegar, cornflour and vanilla essence into mixture. Beat until blended.

Coat baking paper with water drops to allow baking paper to stick to sides of tin and pile pavlova mixture in 20cm circle.
Heat oven until 300°F (or 150°C). Put pav in oven and immediately turn oven down to 250°F (or 125°C) and leave for 1 hour. Then turn oven off and leave in oven until cold. (Usually overnight). This makes a nice crust on outside of pav.

Before serving, cover pav in whipped cream and decorate with your favourite fruit.
Average Rating:

(34 votes)


View more Dessert Recipes
You might also like to try...