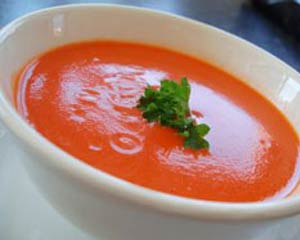 Cream of Tomato Soup
Recipe submitted by Boris on September 7th, 2007
Cream of tomato soup is great winter food. Perfect for lunch or dinner served with garlic bread. Add a little grated cheese on top for the kids.
Prep time:
5 minutes
Cook time:
45 minutes
Servings:
6 people
Ingredients:
1 dozen ripe Tomatoes
5 tbl Tomato Paste
1 litre (about 4 cups) Chicken or Vegetable Stock
1 large Onion, finely diced
2 tbl Butter
2 tbl Olive Oil
1/3 cup Flour
1 cup Cream
1 cup Milk
1 tbl Sugar
Salt to Taste
Basil, Coriander or Parsley to garnish
Directions:
In your soup pot lightly cook onion in butter and oil. Cut fresh tomatoes in half and scoop out seeds with finger, throw away seeds and add roughly cut tomato flesh to pot. Cook for 10 minutes on a low heat, stirring occasionally. Add in tomato paste. Mix flour with same amount of stock in a small bowl until there is no lumps. Add to pot and stir in the rest of the stock slowly. Simmer for 30 minutes stirring occasionally.
Remove from heat and blend in your blender, a few cupfuls at a time.
Return blended mix to a pot and heat. Add sugar, make sure mixture is not boiling, add milk and cream. Taste mixture and add a little salt to taste.
Serve garnished with fresh herbs.
Average Rating:

(7 votes)


View more Soup Recipes
You might also like to try...