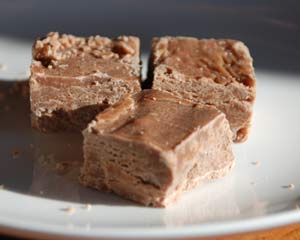 Chocolate Fudge
Recipe submitted by Boris on November 21st, 2007
Chocolate fudge is really easy to make and great for school fetes and fundraisers.
Cook time:
30 minutes
Ingredients:
2 cups sugar
25g butter
1/2 cup milk
1 tablespoon cocoa
1/8 teaspoon vanilla essence

Directions:
1. Combine all the ingredients in a saucepan except vanilla essence.
2. Gently bring to a light boil and stir occasionally
3. After approx 20 minutes start testing the fudge by dropping a little into a glass of cold water. If it forms a soft ball then it is ready.
4. Remove from the heat, add vanilla and beat until thick. Pour into dish and leave to set. Cut once set with a knife heated under the hot tap.

Average Rating:

(112 votes)


View more Kids Recipes
You might also like to try...