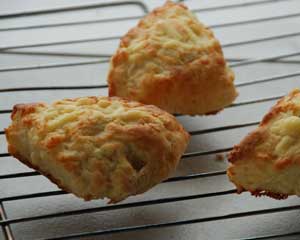 Cheese Scones
Recipe submitted by Wifey on May 12th, 2007
Cheese scones are quick and easy to make. You probably already have the ingredients too!
Prep time:
10 minutes
Cook time:
10 minutes
Servings:
6 scones
Ingredients:
1 cup flour
2 teaspoons baking powder
1/4 teaspoon salt
1 tablespoon butter
1/3 cup milk
1/2 cup cheese
Directions:
1. Preheat oven to 220 degrees C
2. Sift dry ingredients and then rub in butter until mixture is like breadcrumbs, then add cheese
3. Make a pit in the middle of the mixture and add milk mixing quickly
4. Turn out dough and knead lightly
5. Roll out until dough is 2cm thick and cut into 6
6. Place on greased tray and brush with milk and sprinkle with a little cheese
7. Bake for 8-10 minutes
Average Rating:

(99 votes)


View more Bread Recipes
You might also like to try...