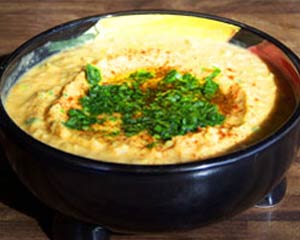 Hummus
Recipe submitted by Charlie on May 7th, 2006
Hummus is a great fast dip to make. Fantastic for an afternoon snack served with fresh veggies or make it to accompany a meal.
Prep time:
15 minutes
Servings:
1 bowl
Ingredients:
2 cups canned chickpeas drained
5 tablespoons tahini
lemon juiced
1 teaspoon salt
2 cloves garlic
1 tablespoon olive oil
1 pinch paprika
fresh parsley or corriander
Directions:
1. Combine chickpeas, tahini, lemon juice, salt and garlic in food processor. Blend until it is smooth.
2. Transfer to serving bowl and drizzle with olive oil. Sprinkle on the paprika and fresh herb.
Average Rating:

(2 votes)


View more Side Dish Recipes
You might also like to try...