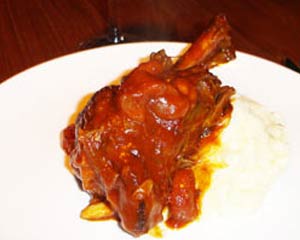 Braised Lamb Shanks
Recipe submitted by maggie on November 1st, 2007
Braised lamb shanks are extremely easy to make. Anyone can follow this recipe and turnout with succulent tasty lamb that falls off the bone. It's basically a throw it all in the oven recipe but with stunning results. The recipe doesn't require exact amounts either. The sauce has a delicious complex flavour that is sure to impress your dinner guests. Great for a hearty meal in winter.
Prep time:
10 minutes
Cook time:
2 hours
Servings:
3 people
Ingredients:
3 Lamb Shanks (a shank per person but just add more for more guests)
5 cloves of garlic roughly chopped
1 cup red wine
2 cups beef stock
2 tablespoons tomato paste
1 large carrot roughly diced
1 large stick of celery roughly diced
1 large onion roughly diced
4 tablespoons of oil
1 tablespoon of Rosemary leaves(fresh is better but dried works well)
1 tablespoon of Thyme leaves(fresh is better but dried works well)
Directions:
Preheat oven to 180°C

Place oil in pan and heat until med-high. Brown lamb shanks on all 3 sides quickly, remove using tongs and add to your casserole dish.

I use a heavy cast iron casserole dish (also called a dutch oven) with a lid but if you don't have one, you can use an oven roasting pan and just add a little more stock/water so that the lamb is half covered and cover with tin foil.

Next turn the heat down and cook onions, carrot, and celery. When onions turn clear add garlic and cook for a further minute. Tip the onions, garlic, celery, carrot and oil into casserole dish.

Add the rest of the ingredients into the casserole dish and give it a quick stir. Cover and place in the oven for 2 hours.

Serve on mash potato, use a large spoon to add a little of the sauce to each dish. YUM!
Average Rating:

(35 votes)


View more Lamb Recipes
You might also like to try...