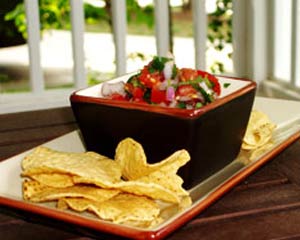 Fresh Salsa
Recipe submitted by Boris on September 7th, 2007
Fresh salsa is an excellent healthy snack for your family. Quick and easy to make. Serve with corn chips or as a side to your favourite Mexican dish. Great also to top off a bbq fish.
Prep time:
5 minutes
Servings:
2 small bowls
Ingredients:
3 cloves crushed garlic
1 Tablespoon Olive oil
1/4 teaspoon Salt
Juice of 1/2 Lemon
4 large Tomatoes chopped
1 Red Onion diced
1/2 cup Fresh Coriander chopped (cilantro)
1 Jalapeno finely chopped (Optional for those who like it hot)
Directions:
Mix all ingredients in bowl. Best if allowed to refrigerate for at least 10 minutes before serving.
Average Rating:

(1 votes)


View more Quick & Easy Recipes
You might also like to try...