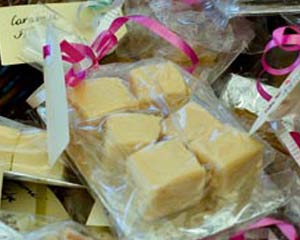 Caramel Fudge
Recipe submitted by Boris on November 21st, 2007
This recipe produces silky smooth caramel fudge that melts in your mouth. Good for kids parties, Christmas gifts, and school fetes.
Cook time:
35 minutes
Ingredients:
3½ cups sugar
½ cup milk
125g butter
½ tin sweetened condensed milk
1 tablespoon golden syrup
1/8 teaspoon salt
Directions:
1. Place sugar and milk in sauce pan and slowly bring to a boil.
2. Add rest of ingredients.
3. Gently boil, stirring occasionally, for approx 30 minutes. Test to see if fudge is ready by getting a small amount and dropping into a glass of cold water. If it forms a soft ball then it is ready.
4. Beat mixture with a wooden spoon until thick and then pour into tin about 1 inch thick.
5. Cut when set.
Average Rating:

(7 votes)


View more Kids Recipes
You might also like to try...