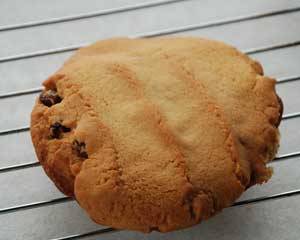 Golden Sultana Biscuits
Recipe submitted by holidayLOVER on November 25th, 2008
These biscuits are fast and easy to make. Kids love them and make a great addition to the school lunch box.
Prep time:
20 minutes
Cook time:
12 minutes
Servings:
15 biscuits
Ingredients:
1/2 cup butter
1/2 cup sugar
1 Tablespoon golden syrup
1 Tablespoon milk
1 teaspoon baking soda
1/2 cup sultanas

2 cups flour
1/4 teaspoon vanilla essence

Directions:
1. Over low heat melt butter, along with sugar, golden syrup, milk, baking soda and sultanas
2. Remove from heat and stir in flour and vanilla essence
3. Use hands and roll into approximately 15 balls
4. Place on greased oven tray and flatten using hand or spatula (I find about 1/2cm thick is ideal)
5. Bake in preheated oven at 180°C for approximately 12 minutes until golden brown
Average Rating:

(17 votes)


View more Quick & Easy Recipes
You might also like to try...