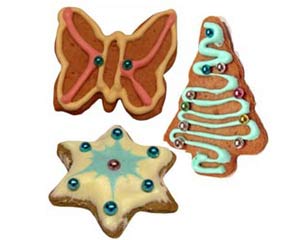 Gingerbread Men
Recipe submitted by Wifey on July 31st, 2008
This recipe makes great crunchy gingerbread men. You could also use this recipe to make gingerbread hearts for Valentine's Day, gingerbread four leaf clovers (with green icing) for St Patrick's Day, or gingerbread butterflies for a girl's birthday party. Make a small hole at the top of the gingerbread men using a skewer before baking and you'll be able to thread ribbon and hang from your Christmas tree. Decorating the gingerbread at the end is super fun for kids and will keep them amused for a good hour or two on a rainy day.
Prep time:
10 minutes
Cook time:
8 minutes
Ingredients:
125g (4 ozs.) Butter
2 1/2 Tablespoons Golden Syrup
2 teaspoons ground Ginger
1 teaspoon ground Nutmeg
1/2 cup Sugar
2 cups Flour
1 teaspoon Baking Soda
1 Egg Yolk
Directions:
1. Melt butter, sugar, and golden syrup in a pot over low to medium heat. Preheat oven to 180 degrees C.

2. Beat in egg yolk and sift in dry ingredients.

3. Knead and roll out to 1/2cm thick. Use cookie cutter to cut out shapes.

4. Place shapes on baking tray on top of baking paper.

5. Bake at 180 degrees C for about 8 minutes. They are done when the edges are golden brown.

6. Remove from oven and allow to cool on rack before decorating.

To make it really fun for the kids, create several different coloured icings and have a variety of sprinkles, sugar balls and mini M&M's on hand. Use the icing to stick the decorations to the gingerbread.

ICING RECIPE
175g (6 ozs.) Icing Sugar
1 tablespoon Boiling Water
1 tablespoon Butter

Combine water and butter and stir in icing sugar. Divide mixture and add a drop or two of food colouring.
You can make icing bag by placing some of the icing in a small plastic bag (such as a plastic sandwich bag) and cutting a very small hole in one of the bottom corners.

Average Rating:

(23 votes)


View more Kids Recipes
You might also like to try...