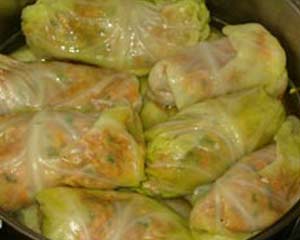 Pork Stuffed Cabbage Rolls with Tangy Tomato Sauce
Recipe submitted by maggie on January 14th, 2007
Cabbage and pork flavours compliment each other so perfectly in this dish. The Tangy Tomato Sauce adds not only a another dimension to the flavour but also adds a contrasting colour to enhance the presentation of the dish.
Prep time:
20 minutes
Cook time:
30 minutes
Servings:
10 rolls
Ingredients:
Stuffed Cabbage
1 medium cabbage
400g mince pork
1 clove Garlic, crushed
2 tbs Oyster sauce
1/2 cup cooked rice
2 tbs Soy sauce
3 spring onions, finely chopped
1 carrot, grated
1 ts fresh ginger, grated
2 tbs vegetable oil
1 tbs seasame oil
1/2 ts chinese 5 spice (optional)

Tangy Tomato Sauce
4 tbs tomato paste
2 cloves garlic, minced
1/2 a lemon, juiced
1/2 cup of apple cider
1 ts salt
1 tbs sugar
Directions:
1. Rinse the cabbage throughly under cold water. With a large knife remove the cabbage core and any tough or damaged outer leaves. Add to pot of boilling salted water and cook for approximately 6 minutes (until the leaves are just soft and can be loosened). Remove cabbage and set aside to drain and cool.

2. Combine oyster sauce, soy sauce, seasame oil, chinese five spice in a small bowl. Heat vegetable oil in wok or frying pan, once hot add garlic and ginger. Cook for 30 seconds then add the minced pork and carrot. Stir constantly until pork is cooked then add oyster sauce mix. Continue cooking until liquid is reduced to almost nothing. Remove from heat and stir in spring onion and cooked rice.

3. On the center of each cabbage leaf, place about 3 tablespoons of the pork mixture. Fold over both sides of the leaf in to the centre and roll from the bottom of the leaf. Roll tightly. Repeat until all mixture is used. Place completed rolls in to steamer seam-side down. Steam for 10 minutes.

4. While the cabbage rolls are steaming make the sauce. Add all sauce ingredients to a pot, bring to a boil, reduce heat and simmer 10 minutes.
Average Rating:

(1 votes)


View more Pork Recipes
You might also like to try...