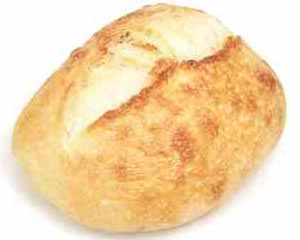 Sweet Soft Sourdough Bread
Recipe submitted by elMartino on February 22nd, 2010
The best bread I ever had! Just needs a bit experience in making sourdough but it can be replaced by dried sourdough which you can get online at www.mybreadmix.co.nz and other places.
Prep time:
30 minutes
Cook time:
2 minutes
Servings:
1 loaf
Ingredients:
10g Dry yeast
20g Wheat germ meal
40g Sugar
10g Salt
550g Wheat flour (high gluten)
375g Sourdough starter ( or 10g dried sourdough)
40g canola oil or butter
250ml Milk
50g Durum semolina flour
Directions:
Mix all together.
Knead for about 10 minutes.
Let rest for 50 minutes and knead again for about 5 minutes.
Put the dough onto a lightly floured surface. Form the dough into a single round loaf. Place the loaf on a baking stone or baking sheet which has been lightly oiled and sprinkled with durum semolina flour.
Cover loaf and let rise in a warm place until nearly doubled in size, about 40 minutes.

Preheat the oven to 220°C.
Bake in preheated oven for 5 minutes lower temperature to 180°C and bake for 20-25 minutes, until golden brown and sounds hollow when tapped.
Average Rating:

(1 votes)


View more Bread Recipes
You might also like to try...