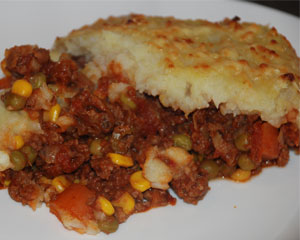 Shepherd's Pie
Recipe submitted by Charlie on May 30th, 2009
This easy and delicious recipe makes for a great family dinner on a cold winter night. Particularly good for kids who don't like veges too much as you can put heaps in and they won't really notice!
Prep time:
20 minutes
Cook time:
1 hour
Servings:
4
Ingredients:
Pie Filling:
2 tbsp oil
1 large onion
2 tbsp minced garlic
500 gms premium beef mince
1/4 cup red wine
1/4 cup water
1 tbsp beef stock
1 tbsp worcestershire sauce
1 tsp ground coriander
1 400 gm can diced tomatoes
1 tbsp tomato paste
4 cups diced vegetables (e.g. carrots, peas, corn)
salt & pepper

Pie Topping
4 medium potatoes
4 large cauliflower florets
1 large kumara
2 tbsp butter
salt & pepper
1/2 cup grated cheese
Directions:
Heat oil in large pot and fry chopped onion and garlic until soft
Add mince and cook until browned
Add in the rest of the filling ingredients, mix well and bring to boil
Reduce heat to lowest setting and cook uncovered for 30 mins or until mixture has reduced and is very thick. Stir often..
Add salt & pepper to taste

Peel and boil the potatoes and kumara, steam the cauliflower until cooked through
Drain, add the butter and coarsely mash all together, add salt & pepper to taste

Pour filling mixture into large lasagne type oven dish, top with mashed vege mix and smooth over with fork
Sprinkle grated cheese on top and bake in preheated oven at 180 degrees for 30 mins or until cheese starts to brown.
Let stand for 5 mins then enjoy!
Average Rating:

(5 votes)


View more Pie Recipes
You might also like to try...