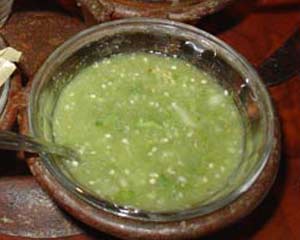 Salsa de Tomatillo
Recipe submitted by Charlie on January 21st, 2007
I discovered Salsa de Tomatillo (also sometimes called Green Salsa) on a recent trip to Playa del Carman, Mexico. The chef at one of the great restaurants we enjoyed kindly wrote down this recipe for me. It is absolutely delicious for topping off your mexican dishes. I particularly love it on bbq chicken, fish etc etc
Prep time:
5 minutes
Servings:
1 small bowl
Ingredients:
10 tomatillos, husks removed
2 cloves of garlic finely chopped
1 handful of chopped coriander
1 fresh jalapeno pepper seeded
Juice from 1/2 fresh lime
1 teaspoon salt
Directions:
1. Place in ingredients into your food processor and pulse until coarsely combined.

2. Place into refrigerator and chill. It's best prepared a couple of hours before serving so that favours can develop.

*You can adjust the amount of jalapeno to suit your tastes.

**If you can't find fresh tomatillos at your supermarket (normally around with the peppers) you can use 1 can of tomatillos, drained.

*** The best combination I have found so far is barbequed scallops with salsa de tomatillo...mouth watering stuff!
Average Rating:

(4 votes)


View more Mexican Recipes
You might also like to try...