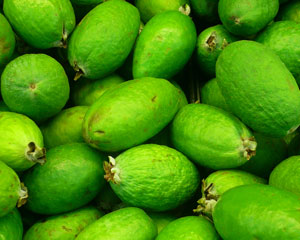 Feijoa & Ginger Jam
Recipe submitted by t-rex on April 29th, 2011
Around this time of year all of us with feijoa trees start to get more fejoas than we know what to do with. Here's a quick and easy recipe to make a delicious jam in the microwave.
Prep time:
5 minutes
Cook time:
15 minutes
Servings:
1 large Jar
Ingredients:
500g Feijoas (chopped)
500g Sugar
Juice of 1 Lemon
2 Tbs finely grated Ginger
1/2 cup Water

Directions:
Place all ingredients in a large glass bowl.
Microwave on high for 5 minutes. Stir.
Microwave for a further 10 minutes on high. Stir once and allow to cool.
Average Rating:

(0 votes)


View more Jam Recipes
You might also like to try...