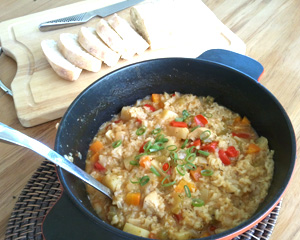 Cajun Chicken Gumbo
Recipe submitted by Charlie on November 19th, 2012
I made this recipe up after eating a chicken gumbo soup and thinking how much I love Cajun cuisine.. I've never actually been to the southern United States, but it's definitely on my to-go list, if nothing else but for the food. This recipe is best eaten out of bowls with some thick buttery slices of turkish bread.
Prep time:
15 minutes
Cook time:
1 hour
Servings:
4
Ingredients:
2 tbsp olive oil
1 onion
2 stalks celery
1 red capsicum
1 tbsp garlic paste
1 carrot
1 potato

1 tsp cumin, ground
1 tsp paprika, ground
1 tsp thyme
1 tsp sage
1 tsp oregano
1/2 tsp salt
1/2 tsp pepper
1/4 tsp cayenne pepper
1/2 cup white wine

1 tbsp flour
4 cups chicken stock
2 x chicken breasts, boneless & skinless
1/2 cup rice

1 spring onion
Directions:
Preheat oven to 180.
Roughly chop all the veges, chop the chicken into small bite size pieces and put to the side.
Add oil & veges to a decent size casserole dish and cook over a medium heat until onions are tender.
Add all the spices and cook for a minute to coat the veges.
Turn up the heat and add the wine, reduce mixture to almost no liquid.
Add flour and cook for a minute, then add chicken stock and bring to boil.
Add the chicken and rice, cover and transfer to oven for 1 hour.
Garnish with chopped spring onion and serve hot.
Average Rating:

(1 votes)


View more Chicken Recipes
You might also like to try...