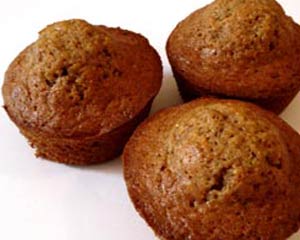 Bran Muffins
Recipe submitted by Wifey on May 8th, 2007
Bran muffins are easy to make. Make sure you don't over mix or the muffins will peak and be tough. Great for adding to kids lunch boxes.
Prep time:
10 minutes
Cook time:
10 minutes
Servings:
10 muffins
Ingredients:
Dry Ingredients
1 cup bran (wheat or oat)
1 cup wholemeal flour
1 teaspoon baking powder
2 tablespoons milk powder
1/4 cup brown sugar
1/4 teaspoon mixed spice (cinnamon, nutmeg)


Wet Ingredients
1 tablespoon golden syrup
1 teaspoon baking soda
1 cup hot water
Directions:
1. Preheat oven to 200°C
2. Combine dry ingredients and mix
3. Combine wet ingredients, stir and add to dry ingredients. Gently mix until just combined.
4. Spoon into muffin tray.
5. Bake for approximately 10 minutes. You can test if muffins are ready by placing a clean, dry knife into muffin, if it comes out clean, without muffin mix, then muffins are cooked.

Variations
Add any of the following to the wet mix.
1 mashed banana
1/3 cup sultanas
1 medium grated apple
Average Rating:

(8 votes)


View more Quick & Easy Recipes
You might also like to try...