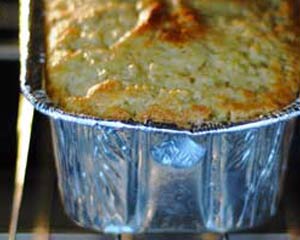 Banana Bread
Recipe submitted by Wifey on July 22nd, 2006
This is the best recipe that produces yummy banana bread and never fails. A great one for the kids too!
Prep time:
20 minutes
Cook time:
50 minutes
Servings:
1 loaf
Ingredients:
4 super ripe banana (mashed 1¼ cups)
1/3 cup melted butter
1 cup sugar
1 egg beaten
1 teaspoon baking soda
1 teaspoon vanilla
pinch of salt
1 1/2 cups of flour
Directions:
1. Preheat the oven to 180°C.
2. In a large bowl mash up the banana with a fork. Mix in melted butter.
3. Mix in sugar, egg and vanilla
4. Sprinkle baking soda and salt over the mixture and stir in.
5. Finally add in flour.
6. Pour mixture into well buttered loaf tin.
7. Bake for 50 minutes
Average Rating:

(37 votes)


View more Cake Recipes
You might also like to try...