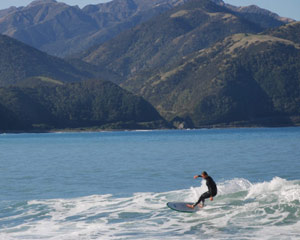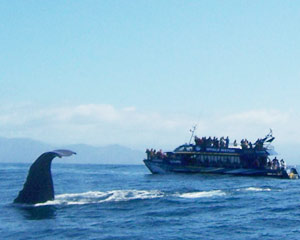 Why We Love Kaikoura
Article submitted by holidayLOVER



March 1st, 2009
Located on State Highway 1 just two and a half hours drive north from Christchurch is the town of Kaikoura. Kaikoura is a very small district, with a population of just over 3600*, yet it attracts almost a million tourists annually. The wildlife is phenomenal and the scenery is breathtaking. Most people come to see the wildlife (namely; whales, birdlife, dolphins and seals), surf on the waves, or scuba dive below, and of course eat crayfish. My mother now lives in Kaikoura, so my husband and I visit about once a month. What follows below is a few of the things we love about Kaikoura.
Whales
My great-grandfather worked on the whaling ships off the coast of Kaikoura, until the numbers of whales had declined to such an extent that it became uneconomic, he then moved in a much less brutal line of work, farming. Today all the marine mammals are protected in New Zealand. You really should do a trip out to see whales at least once in your life. You don't need to be a new age type to appreciate whales. These mammals are amazing. Huge and amazing.
The sperm whales are the star of the show in Kaikoura because they are year-round residents. That means the odds of you seeing a whale or two while out whale watching is excellent. Humpback and blue whales also pass through Kaikoura. Orca (killer whales), which aren't whales at all but the largest species of the dolphin family, pass through occasionally too. I've been told that the orca come to eat the seal pups and baby dolphins...(oh no). They aren't considered a threat to humans but if you are doing a swim with the dolphins or swim with the seals trip and a metre plus dorsal fin appears, I would get the hell out of the water FAST.
Seals & Dolphins
Ohau Point Lookout on State Highway 1 just north of Kaikoura is a popular place to view the New Zealand fur seals. It's great because there's plenty of parking and you can look down on them from above without disturbing the seals. While cute, seals do smell pretty awful so a little distance is a good thing. Ohau Point is where the young seal pups practice their swimming in the rock pools, while the adults laze about. Kaikoura also offers the chance to swim with the seals which due to the curious and playful nature of the seals is supposed to be excellent (I have yet to try it myself). Another good spot to watch the seals is on the Peninsula Walkway (see below).
The main species of dolphin you will see around Kaikoura is the dusky dolphin. These dolphins are super acrobatic, leaping out of the water and travel in "super pods", which means there are over 200 individual dolphins in a pod! Swimming with dolphins in Kaikoura is a must. If you are going to do one tourist activity in Kaikoura, this should be it.
Walks
Kaikoura Peninsula Walkway is definitely worth checking out. You can access it from Point Kean car park or the nice picnic area at South Bay. Walks range from a few minutes to over 2 hours. If you are limited for time, then a quick 5 minute walk from the Point Kean car park to the lighthouse lookout provides stunning panoramic views. If you have more time then the tracks will reward you with wildlife including; seals and birds galore. My pick would be to do the "Shoreline Walk" at low tide to see maximum wildlife. The tidal rock pools are full of interesting sea creatures and are fascinating to stop and inspect.
Mt Fyffe Track is a great adventure. It takes about 8 hours return and is really only suited towards those who are moderately fit or better. The summit is at 1602 metres and offers panoramas of the Kaikoura Flats, Peninsula and the Seaward Kaikoura Ranges.
Surfing
Kaikoura has some of the most consistent surf breaks in New Zealand. Watch out for the seals at some of the spots as they can bite! Mangamaunu, located on State Highway 1 is a very popular right-hand point break. Other popular spots include, Ocean Fun Reefs, Graveyards, Meatworks and Oaro. Sorry I'm not going to reveal any Spot X, my husband, not to mention the locals, will kill me.
Eating
Ok so if I'm going to talk about eating in Kaikoura I have to start with crayfish. Just thinking of them makes my mouth water. Most locals have a cray ready for guests but if you don't know a local then my pick would be to stop in at Nin's Bin. Crayfish don't need to be cooked at a fancy restaurant to be delicious. Wrapped in newspaper and eaten on a picnic bench on the beach looking out to sea is best. My favourite places to eat are The Store, The Sonic and The Black Rabbit Pizza Co. The Store is about 40 minutes drive north of Kaikoura and offers yummy food and stunning views. It's good in summer and winter. Make sure you save room for dessert, as their cakes are divine. The Sonic has nice food and is right in town. If you like pizza then visit The Black Rabbit Pizza Co as they do the most amazing gourmet pizzas.
All my favourite Kaikoura places are marked on the map above. Click on the markers and icons for information about each spot. Use the map's navigation tool to zoom out and reveal the surf spots mentioned (they are north & south of Kaikoura town).
* Source: Statistics New Zealand 2006 Census
Average Rating:

(2 votes)

View more Destination - Tasman - Nelson Travel Articles