Take a scenic drive from Nelson to the picturesque alpine village of St Arnaud and nearby Lake Rotoiti. It is the gateway to Nelson Lakes National Park and you can enjoy skiing at Rainbow Ski Area from July - September.
Both Lakes Rotoiti and Rotoroa are each renowned for brown trout fishing. Surrounding areas also offer excellent trout fishing along with other popular holiday activities such as whitewater rafting, jetboating, trekking and mountain biking. Just North of Murchison you will find the picturesque Owen River which was one of the dramatic locations used in the film Lord of the Rings.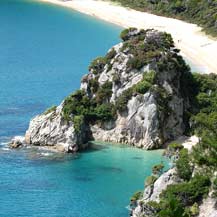 The Heaphy Track, located in Kahurangi National Park, starts in Collingwood and is one of NZ's Great Walks. From river flats to lush forests, from tussock covered downs to towering nikau groves, this is a unique and diverse must-do walk for nature and adventure lovers.
Another of the Great Walks, and probably one of the most famous found in NZ, is the Abel Tasman. Golden beaches, tranquil lagoons, birds and marine life make this a year-round destination and a favourite location for sea-kayaking.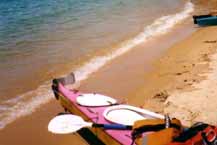 If you are after a truely relaxing holiday experience why not try a wine tour. Between Richmond and Motueka is a vast array of boutique wineries. Spend the afternoon wine tasting, and dining on some of the gourmet delights created from the fresh produce of the region.
Great shopping can be found at the colourful Nelson markets every Saturday morning and is something not to be missed. A Saturday market also can be found in beautiful Takaka, while Motueka hosts a relaxed Sunday market.