Otago's prosperity exploded in 1860 with the discovery of gold. Dunedin grew quickly and was New Zealand's largest city in 1874. Today a lot of the remarkable architecture that we admire in the region is testamony to wealth generated during the gold rush.
If you are interested in architecture, a short drive out of Dunedin will enable you to see New Zealand's only castle, Larnach Castle. Perched on the top of the rolling hills of the peninsula, Larnach Castle which took 12 years to construct, has stunning views out to sea and back towards Dunedin.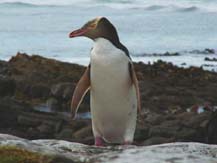 Due to Dunedin's large university, you will find the nightlife of the city very vibrant. Another treat for those who enjoy a drink, is the Speight's Brewery Tour. Not only is it a good excuse for a daytime beer but is a educational and hands-on experience.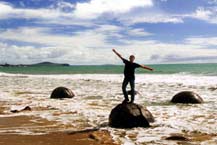 An outstanding natural attraction found in Dunedin and Oamaru is the opportunity to see little blue and yellow-eyed penguins. Dunedin is also home to the Royal Albatross Centre at Taiaroa Head. This is the only mainland breeding colony of Royal Albatross in the world and provides a unique chance for people to see this majestic sea bird in its natural environment.
Inland Otago offers holiday seekers delightful towns such as Alexandra, Roxburgh, and Ranfurly. The region is famous for it's flourishing orchards nestled among barren hills and mounds of tailings from the mining era. Wine has become one of central Otago's newest industries, with many of the wineries still small and offering tastings throughout the summer months. Activities offered include four-wheel driving, mountain-biking, fishing, horse riding and rafting. In the winter skiing, ice skating and curling are popular sports.