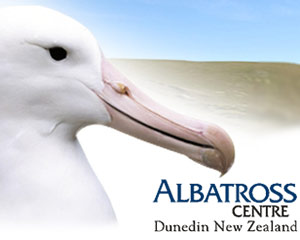 Click on the thumbnails below to view enlarged

You may drag the map or use the buttons to move/zoom
Royal Albatross Centre
Address:
Taiaroa Head, End of Harington Point Road
,
Dunedin
Otago
New Zealand
Phone:
(03) 478 0499
Website:
http://www.albatross.org.nz/

Download contact details to your Address Book
Average Rating:
(3 votes)

Taiaroa Head is unique for the diversity of wildlife which abounds on this small headland, and includes the only mainland colony of albatross in the world.
To sight a soaring Albatross is unforgettable - a spectacle touched with a dignity and majesty no other bird can excel. Held aloft on slim wings up to 3 metres (9'6") across, the great Albatross is capable of swooping speeds of at least 115kph+. It's pure ecstacy in the air, yet distinctly clumsy on the ground. You'll find the social and family life of the breeding colony fascinating. Chicks are fussed over by devoted parents, adolescents party, just like adolescents everywhere, courtships proceed with lots of kissing and cuddling, and "marriage" is usually for life despite long separations at sea. And the life of an Albatross is indeed long - one bird at Taiaroa, fondly known as "Grandma," raised her last chick at age 62!
The Royal Albatross Centre nestles at the foot of Taiaroa Head , at one with its environment. Start your wildlife adventure. Step into the foyer dominated by Poutokomanawa, a carved pole telling the history of the Maori people of the headland. Settle back for an introduction to the Royal Albatross narrated by Sir David Attenborough. Your guide will take you through the bird's fascinating story.
From the Centre, it's a short walk to the Observatory for the privilege of seeing for yourself the greatest of all seabirds. Stay a while. Wander through the McMillan Gallery and learn more of the history and wildlife of the area. Enjoy a snack and look out for a memento - you'll want to remember the day you met the Royals of Taiaroa!
Southern fur seals can be seen at Pilots Beach, or often young pups can be seen from the cliff tops on the eastern side of the Headland, playing in rockpools or sleeping in the sun. The rare yellow-eyed penguin can be observed close by. The area is alive with seabirds, as the protection given to the albatross colony has allowed many other species to flourish. This remarkable abundance of wildlife is drawn to the area by the Southern Ocean's cold currents which rise above the continental shelf, providing a rich and constant food source.

View more Bird Watching Holiday Activities in Otago