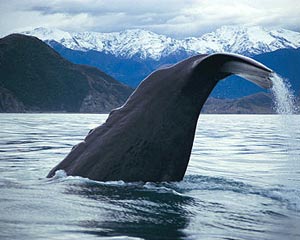 Click on the thumbnails below to view enlarged





You may drag the map or use the buttons to move/zoom
Whale Watch - Kaikoura
Address:
Railway Station Road
,
Kaikoura
Canterbury
New Zealand
Phone:
(03) 319 6545
Website:
http://www.whalewatch.co.nz/

Download contact details to your Address Book
Average Rating:

(2 votes)

Every Whale Watch tour is a unique experience and the sightings vary. Giant Sperm Whales are the stars of the show and year-round residents.
A typical Whale Watch tour may encounter New Zealand Fur Seals, pods of Dusky Dolphins and the endangered Wandering Albatross. Depending on the season you may also see migrating Humpback Whales, Pilot Whales, Blue Whales and Southern Right Whales.
Kaikoura often hosts the world's largest dolphin - the Orca - and is home to the world's smallest and rarest - the Hector's.
Kaikoura also attracts the largest concentration and variety of seabirds on mainland New Zealand including 13 species of Albatross, 14 varieties of Petrels and 7 types of Shearwater. If your Whale Watch Kaikoura tour does not see a whale we will refund 80 percent of your fare.
Designed specially for whale watching, our modern catamarans are equipped with engines that minimise underwater noise and toilets that never pollute the sea. The main passenger cabin is enclosed and large outside decks offer great viewing and photo opportunities. Spacious air-conditioned interiors are fitted with comfortable seating while large plasma screens display our award-winning marine wildlife animations.
Passenger numbers for each tour are kept well below our vessel carrying capacity to ensure your tour experience remains a personal one.
"Excellent trip very informative, friendly crew. Wonderful set up. This day made my holiday of a lifetime – and I am 70yrs old. Thank you very much."
-Fran, UK
"When we booked this trip from our kitchen on a very cold night in November, nothing could have prepared us for the amazing experience we had today. Forever in our minds!!!"
-Roy, IRE
"Very Professional staff, very environmentally responsible. Amazing sightings & photo opportunities. Many thanks!"
-Helena

View more Whale Watching Holiday Activities in Canterbury