Gisborne is famous for it's stunning beaches. Surfers have been coming to Gisborne since the early 1960's, due to its great swells coming in from both the east and south. For those who would like to experience surfing, there are many places in Gisborne that offer surf board hire and lessons are also available for individuals or groups.
The Gisborne region has a rich cultural history. Kaiti Beach, near Gisborne, was where the Maori immigrational waka, Horouta, landed. It is also the first New Zealand landing place for Europeans. Caption Cook set foot here in 1769.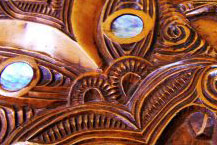 North-west of Gisborne the largest wilderness area in New Zealand, Te Urewera National Park. In the southern part of the park lie two of the park's treasures, Lakes Waikaremoana and the smaller Lake Waikareiti. The park has an extensive track system but perhaps the best known and the best developed is the Lake Waikaremoana Track, one of New Zealand's Great Walks. Boating and fishing is popular on Lake Waikaremoana. Brown and rainbow trout are found in the lake. Hunting is also available for introduced animals such as deer and pig.
The high sunshine hours of Gisborne also factor into making it one of New Zealand's prime grape-growing regions. The region is renowned for it's Chardonnay wine and has many great vineyards that welcome visitors.