Mount Maunganui (Mauao) is the most dominant landmark of the region and a Kiwi holiday "hot spot". The marvellous white sand of Mt Maunganui beach stretches unbroken all the way to Papamoa. Whether it's catching a few waves or just lazying on the beach under the clear blue skies, you will see why "The Mount" is the quintessential seaside resort. It is also an extremely popular base for the recreational sport of fishing. According to world records, the largest snapper and kingfish ever caught were hooked in The Bay of Plenty.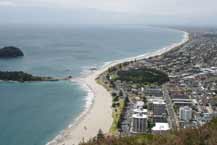 Tauranga is the region's largest residential and commercial area. Tauranga is a beautiful oceanic city with a safe harbour and miles of white sandy beach. There are many water based activities, including swimming with the dolphins, scuba diving, fishing and surfing. The area also features several first class golf courses, and there is white water rafting, jet boating and 4WD thrills for the adventurous.
Take a trip to White Island, New Zealand's only active marine volcano. Located 50km off the coast of Whakatane, its volcanic structure is said to be over two million years old. With a majority of its structure underwater it attracts a huge amount of attention from divers, vulcanologists and visitors.