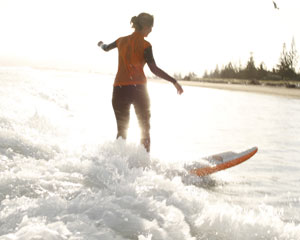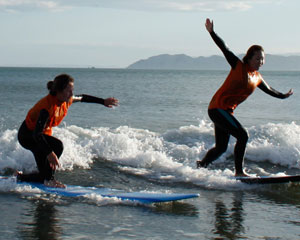 Surfing New Zealand
Article submitted by WOWSURF
January 2nd, 2012
There is something about the sport of Surfing that is unlike any other pursuit in the world. It combines one of the most beautiful & unpredictable elements we know - the ocean, with simple human strength of body and mind. As world populations expand and the popular sport of surfing builds, New Zealand is becoming one of the best places on earth to learn to surf. Why? Because we have such a variety of surf breaks to choose from, there are well over 470 and a relatively small population of people, which means that there is more space and therefore a friendlier vibe for our beginners to build their skills.
There are also the wondrous and varied coastlines from those framed by snowy mountains in Kaikoura, to the thermal activity of Hot Water beach, to the first city to see the sun rise through Native Pohutakawa trees in Gisborne.
Through surfing, lessons for life are built-perseverance, respect, a "can do attitude", resilience & adaptability. There are many variables that make the playing field for surfing one that constantly changes, the wind, the wave size, the number of people surfing, the weather & of course the state of body and mind on the day.
It is a challenging sport for the beginner, as it is requires a lot of focus & understanding. One of the best things you can do in New Zealand is take a surf lesson and therefore gain the tools to fully experience such a fantastic coastline.
Check out one of the most interesting locations off the beaten track in Gisborne New Zealand the first city to see the sun!
Check out WoW Surf School Gisborne which has a team of fun and fully registered surf instructors, both male and female who will help you enjoy the pristine coastlines and show you the time of your life!!
Average Rating:

(0 votes)

View more Outdoor / Adventure - Gisborne Travel Articles