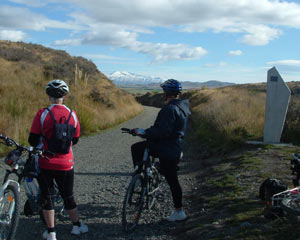 Otago Rail Trail -A Cycling Adventure
Article submitted by t-rex
May 29th, 2011
Once a railway line connecting Clyde to Middlemarch, the Otago Rail Trail is a scenic trail spanning 150km. The railway line was originally constructed over a period of 16 years between 1891 and 1907. The Rail Trail was developed by the Dept of Conservation (DOC) in partnership with the Otago Central Rail Trail Trust and was opened in 2000 as a public reserve – (no entry fee required).
You cycle over wooden trestle bridges, through tunnels, rocky plains and majestic mountains and dramatic gorges. The trail is relatively flat and takes approximately four days to complete comfortably. Expect to bike about four hours a day. The track is a firm gravel. Our average speed was 12kpm and we all had a reasonable degree of fitness and cycling practice.
I did the trail at the beginning of April. The countryside was awesome - wreathed in golden hues. There was plenty of snow on the mountain tops and the views were breathtaking. Mount Ida was spectacular.
We all had the Official Rail Trail Passports for self stamping at the Station Sites, which is a great momento of the trip. There was also information along the trail inside 12 red trail side gangers' sheds. Topographic outline panels can also be viewed along the trail.
Our trip started at Clyde, a semi-rural landscape of orchards, vineyards and lifestyle blocks and our first stop was at Hinton Wines at Alexandra. This 3rd generation family business has delicious red wines for sampling and a cheeky Pinot Noir with a label 'I survived the Rail Trail' was purchased. The scenery and rock formations are amazing in this area.
There are trail side toilets along the way and remember to take toilet paper. Also water is not always readily available so take plenty with you and replenish with bottled water at towns along the way.
We took side trips to St Bathans with its historic buildings, man-made moonscape and Blue Lake.
There two long tunnels between Lauder and Auripo so don't forget to take a torch. You can also visit the remains of railway construction worker's huts. We also saw the rare and endangered Karearea, the NZ Falcon.
The trail passes Ida Burn Dam, famous for curling. We made a side trip to Naseby and had a game of curling at New Zealand's only international year-round curling rink. We visited Gilchrist's, NZ's oldest continuously operating general store at Oturehua. On the edge of town a few hundred metres from the trail along Reefs Road is the Golden Progress Mine with its wooden poppet head still straddling a deep shaft.
The trail crosses 45 Degres South Latitude twice. Look for the concrete markers. Near Wedderburn the trail reaches its highest point – 618 metres above sea level. It is identified by a concrete marker.
Ranfurly – take an art deco self-guided tour around this town. The museum is one of only two worldwide dedicated to art deco.
Tiroiti – Hyde was very picturesque. You cross the historic stone Cap Burn Railway Bridge and 32m high Prices Creek Viaduct before entering the 152m Prices Creek tunnel. You will need your torch.
We experienced classic southern hospitality at our overnight stops in the small towns along the way. Peter's Farm Lodge, Waipiata deserves a special mention – great for a group.
I definitely will be experiencing this awe-inspiring adventure again.
Average Rating:

(0 votes)

View more Outdoor / Adventure - Canterbury Travel Articles