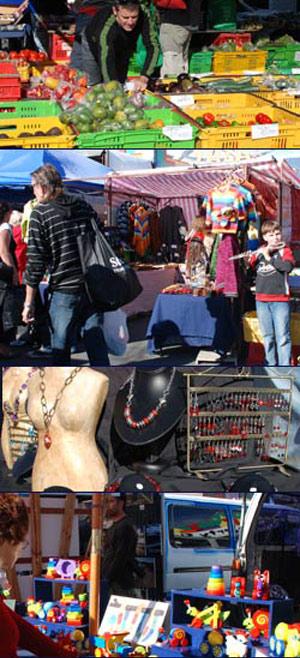 The Nelson Saturday Market
Article submitted by holidayLOVER



June 25th, 2009
The fantastic artistic nature of the Nelson/Tasman region is truly reflected in the Nelson Market held every Saturday in the Montgomery Square right in the heart of Nelson. Visitors and locals alike flock to this market each weekend and it is arguably the most supreme market in New Zealand with over a hundred stalls offering up the best the region has to offer.
The market is a real delight for the senses as you walk through the maze of stalls. The aromas of strong ground coffee, fragrant soaps, freshly baked bread, and flowers all permeate the air. The bright colours of wooden children's toys, pottery and jewelery all dazzle the eyes. Finally the wonderful sounds of numerous buskers provide a diverse musical backdrop.
There's everything you'd expect to find and more in the stalls. Whether you are just stocking up on food items or shopping for furniture you'll find it all here. The craftspeople and artists offer great unique gifts, particularly with a New Zealand twist. And there's also plenty of bargains to be had!
Forget the supermarket for your fresh fruit, vege, and herbs, the stall operators offer the true insight in to what is the best at the moment, having grown or sourced it all themselves. You can even get advice on the best way to prepare your purchases. What's more much of the produce on offer is organic and at a fraction of the price you'd expect to pay. The gourmet cheeses, pickles and jams are a must to purchase too.
There's plenty of fantastic pottery on offer. There's clothing for every taste imaginable. I got an excellent deal on some merino wool items and also some good quality New Zealand made thermals.
Check out the brightly coloured wooden children's toys that will last a lifetime. I bought a wooden puzzle of my daughter's name which she completely adores. There was also a delightful stall selling the best baby slings made with beautiful fabric combinations.
Make sure you stop at the Kerstiens Fudge stall and try a sample of their to-die-for fudge. The boysenberry fudge is a firm favourite in our house.
The Nelson Market is a Must-Do when in Nelson. The market is held every Saturday from 8am - 1pm
Average Rating:

(4 votes)

View more Local Knowledge - Tasman - Nelson Travel Articles