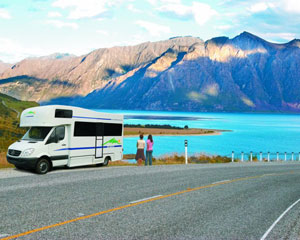 Hiring a Motorhome to See New Zealand
Article submitted by Qualitymotorhomes
June 25th, 2010
Hiring a Campervan/Motorhome is the best way to see the stunning scenery of New Zealand. You can travel independently, at your own pace, in whichever direction takes your fancy.
By following a few simple guidelines, the experience can be both rewarding and affordable.
•Getting Started. Try to plan as far ahead as possible to get the best selection of van sizes, layouts and prices. This is especially important over the December/January period when everything is totally booked. Planning six months ahead is usually ideal.
•When to go. Anytime is great, although winter weather is variable and temperatures can get to below Zero with snow and icy conditions. On the plus side, there are some spectacular snowy scenes on a crisp, sunny winter day. The vans are also half the price that they are in the summer and some excellent specials are usually offered. December/January is the busiest time of year, with the Kiwis on holiday as well. The roads, attractions and campsites are filled to the breaking point. February/March is the best time to come, as the weather is settled, the vans are slightly cheaper and the Kiwi kids have gone back to school. Spring and Autumn can also be nice, with the changing foliage colours.
•How long do you need? Try and spend at least two weeks in the South Island and one week in the North. Everyone returns saying they wish they had booked for longer. You can either start your trip in Auckland and drop off in Christchurch or vice versa. Book the ferry to cross between Islands. If you're on a limited time frame, just stick to one island.
•Booking direct or using an agent. It depends whether you enjoy spending your spare time on the internet, sifting through mountains of info, or sending your details to an agent, who can do the shopping around to get the best deal for you.
•Some other tips. Kiwis drive on the left and most vans come with manual transmission, so make sure you have some sort of travel insurance. You may need to leave a bond on your cedit card on pick up, so check this out before you get to the rental agency. You need a valid driver's license. Check with your agency to determine whether your current dirver's license will work or you need to get an international one.
There are a few areas where you can free camp if you have a toilet on board, but these are slowly disappearing as some travelers ruin it for others, leaving litter, etc. Motorcamps and Campgrounds are the safer alternative. They cost around NZD 30.00 per night for the van and two people, have great facilities and are very, very social.
Happy Camping!
Todd Whisker is the author of this article from Quality Motorhomes NZ.
Average Rating:

(0 votes)

View more Travel advice - Canterbury Travel Articles