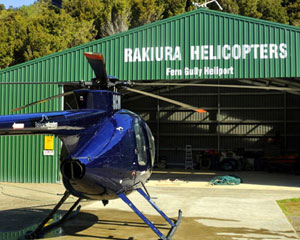 Click on the thumbnails below to view enlarged





You may drag the map or use the buttons to move/zoom

Download contact details to your Address Book
Average Rating:

(1 votes)

From our main heliport at Bluff, the team at Rakiura Helicopters can have you to Stewart Island in just 10 minutes. This thrilling island hoping option allows you to travel in comfort and style, while enjoying the breathtaking scenery in the way.
Heli Options...
Island Hoping
We operate regular flights from Bluff to Stewart Island, with a courtesy coach pick up to and from the heliport on Stewart Island.
We also offer a heli/ferry option, by air one way and by sea the other.
Heli Flight-Seeing
From Stewart Island, heli flight-seeing is a great way to see the island, with beach landings at key locations around the Island.
Heli - Hiking
Enjoy an amazing scenic flight and beach landing. We have options for different fitness levels. Stewart Island's Rakiura National Park is renown for its walking tracks and with 250 kilometres of track wandering over 157000 hectares; it's a tramper's paradise. Heli-Hiking is the ultimate way to see the Island from both perspectives. As you skim along the Ruggedy Range coast line or Cruise past Mount Anglem on your way to your destination you will get a birds eye appreciation of where you soon be hiking. After you touch down on a remote beach and the helicopter departs you will have time to reflect on nature and how the world once was.
Our expert team at Rakiura Helicopters can whisk you away on a nature adventure of a lifetime. With bases at Bluff and on Stewart Island, we can design an adventure to fit your budget, tastes and experience.

View more Air Tours Holiday Activities in Southland