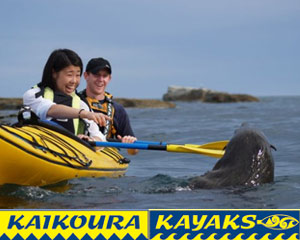 Click on the thumbnails below to view enlarged



You may drag the map or use the buttons to move/zoom

Download contact details to your Address Book
Average Rating:

(2 votes)

Welcome to our magic little sea-side village of Kaikoura, where the marine life out numbers the humans and mountains meet the sea. What better way to catch up with the locals of the marine kind than by sea kayak with Kaikoura Kayaks.
The curious NZ Fur Seals are only a few paddle strokes away and our local guides would love to introduce you to them and their mates in the back yard of the Kaikoura Peninsula.
Watch fur seals dive and manoeuvre around and under your kayak. Paddle with them as they swim around the Kaikoura Peninsula hunting for Octopus. Keep your distance while dinner is devoured in front of you, then duck for cover as hundreds of Pelagic (ocean going) birds swoop in to clean up the left-overs...
Continue your journey around the reefs of Kaikoura to encounter other marine mammals. Kaikoura is one of New Zealand's most magical eco tourism locations!
Kaikoura Kayaks has been operating since 1998 and our Guides knowledge of the coastline and where the wildlife is comes second nature to them. For our kayaking tours you don't need any kayaking experience , as we will teach you how to paddle. No matter what your background Kayaking is quickly and easly learnt by all ages.
Kaikoura Kayaks provide transport to and from paddle sites plus dry bags for cameras / gear.
"The best thing I did in NZ"
- Matt, www.wherethehellismatt.com"
"Excellent trip, top guide, great scenery and cute swimming seals."
"What a way to spend a day, superb! 10/10 for Paul."

View more Kayaking Holiday Activities in Canterbury