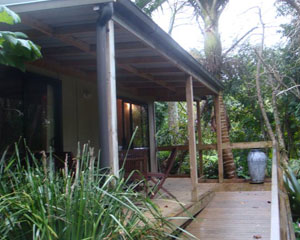 Wharepuke
Article submitted by Jangoy
June 6th, 2011
My husband recently turned 70 and wished to plan his own 'made to measure' day. While researching he came across a place that ticked all the boxes. Wharepuke located 1km from central KeriKeri.
We dined at the award winning restaurant where the food was cooked to perfection by Metro Award winning Chef/Owner Colin Ashton; served by a friendly but non invasive staff. Dinner was followed by a leisurely stroll - literally 5 minutes - along a wooden boardwalk, to our one bedroom, self contained cottage nestled in lush tropical garden, described as a Garden of Regional Signifance. The accommodation/garden is a separate family operated business which includes a non toxic print operation and gallery.
The brochure said 'Eat-Sleep-Experience and we most certainly did all of those things. A truely awesome experience to be treasured for a lifetime.
Food at Wharepuke
Average Rating:

(0 votes)

View more Destination - New Zealand Travel Articles