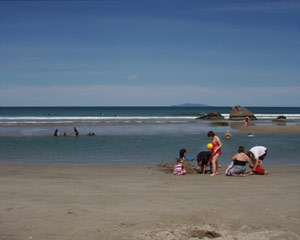 Whangamata - Coastal Coolness
Article submitted by Krister
February 7th, 2007
Whangamata located in the greener than green Coromandel Peninsula, provides a great way to recharge your batteries on New Zealand's east coast. A small town of close to 3500 residents explodes to somewhere between 40 and 60,000 during the summer holiday months. Although the growth in Whangamata has boomed in the last 20 years it hasn't lost its cool kiwi style beachyness.
You wont see any Surfer's Paradise-like high rises, The Warehouse or dirty bird chicken chains, most stores in town are all local and can sustain all your hearts desires and more. A walk down the main street is a must to cast your eye over the latest fashions, surf wear and other beach styled fare. Whangamata is definitely not starved for amazing culinary outlets. From Fish n Chips on the beach with a bottle of L&P to unique dine in experiences, Whangamata can satisfy whatever your belly is craving. My pick is Nero's Pizza Café & Bar. No ordinary pizza and pasta joint, Nero's range of menu and amazing tastes will have you palate and puku (stomach) pretty damn happy! The drinks menu itself is something to behold. Mark the owner, and Coffee Jedi Master, is only to happy to let you in on the best wines from good old NZ (and Australia) to accompany that pizza or pasta of yours.
Whangamata, in quite a cliché-like manner, has something for everyone. Simply walking along the surf beach and up in to the estuary is a relaxing experience in itself, or just out of town you will find the luscious Wentworth Valley or a variety of forestry walks. Wentworth valley is an idyllic green walk chasing a river alongside native bush, and if you are up for it, finishes with a hike up to the top of a waterfall. Or to experience some of NZ's largest natives check out Pritchard's Kauri Reserve to see the phenomenal Kauri Trees.
Whangamata is one of NZ's premier surfing breaks and rich in surf history. East coast surf can be fickle but when its on …its on!! For the novice, or the never-ever, there are plenty of places to hire boards and get lessons. A board will cost you $30 per day from the Saltwater Surf Shop, and lessons start around $50. So if you want to prove those boardies and surf tees you just bought in the main street aren't just for show, get out there and give it a go (please note rhyme here was unintentional).
No trip to any of NZ's coastal towns is complete without a feast of kaimoana (seafood). While in Whanga why not catch it yourself. Whangamata has an abundance of fishing and other seafood gathering opportunities. So throw your tackle out (no pun here) off the beach, or get out on a fishing tour. It tastes so much better if you caught it. Just make sure you follow the rules and catch within your quota, we all want seafood forever and being a greedy guts can effect the replenishment ability of our coasts.
If fishing ain't your thing, head to the Seafood Deli on Port Road, for a huge range of ka pai kaimoana (good seafood). Whangamata explodes during the summer months. Around New Years Eve, there are plenty of teenagers only too happy to provide you with the sound of their tricked out ride. If lowered family sedans, blow off valves and doughnuts, don't make you giggle and wave, then maybe the more family packed January is your time for a summer holiday. To get away from the crowded surf club in the peak summer months, head out of Whangamata to Pokihino or Onemana, there will be a little more towel space for you.
Whangamata has some great events to come and make a weekend or more out of. 'Whanga Week' celebrates summer with events around New Years Eve. April's Beach Hop sees a return to the 60s with Hot Rods and Rock 'n Roll cooler than Fonzie, and the Corona Crown surfing tour drops in on Auckland Anniversary weekend with the top NZ surfers battling it out in the waves.
So check out Whangamata, come along, recharge, throw out a line, get barrelled, tee off, cast off, or just drop off the grid for a while … Whangamata is definitely an idyllic Kiwi Holiday!!
Average Rating:

(1 votes)

View more Destination - New Zealand Travel Articles