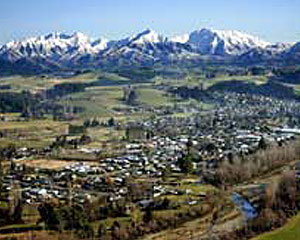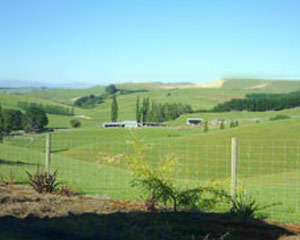 The Beautiful Village Of Geraldine
Article submitted by Dave
July 9th, 2009
Geraldine Village, rated as "New Zealand's most beautiful town" and it's not hard to see why! We found this sub-alpine village has more than meets the eye. Highly recommended on our must see list when you visit or stay is the new 1066 Medieval Puzzle World, the Giant Jersey and Allison Art all found on Wilson Street. Kiwi Country complex and the "Four peaks plaza", which includes a boutique cheese factory, an Alpaca shop, Barker's tasty conserves, sauces & beverages for which the village is well known, and of course the famous Berry Barn Bakery.
For "thrill seekers and outdoor adventurers" there's many wonderful bush walks at the Kakahu limekiln, Talbot Forest and nearby Peel Forest. The world's best trout and salmon fishing, white water rafting the Rangatata River, horse trekking, golfer's paradise an incredible sixteen courses within an hours drive, fly a plane at Rangatata Aerodrome, four wheel drive safari's, or visit the village's Museum and Vintage Machinery Museum. In winter there is skiing/snowboarding (eight different fields within an hour) and ice skating and hot pools nearby at Tekapo......and then there is always the challenge of a trek up "Little" Mount Peel (1311mtrs).
We also found that Geraldine is home to many famous NZ artists, so you might like to grab an Art Trail brochure from the information center like we did. For evenings, there's the choice of Geraldine's Old-time Cinema or in season nightly entertainment at The Taste, The Easy Way Café, Mandel's or Village Inn Cafe. There is a choice of ten takeaway's and cafe/restaurant dining venues.
We highly recommend you visit Geraldine. We run Aoraki Cottage - Farm Stay which offers the guests a marvelous time exploring a working New Zealand farm.
Average Rating:

(0 votes)

View more Destination - New Zealand Travel Articles