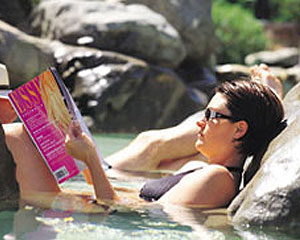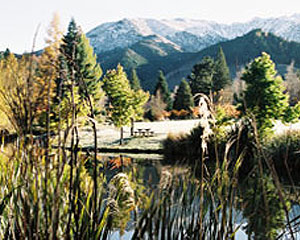 Romantic break in snow-capped Hanmer Spring – Just Magic
Article submitted by wordofmouth
August 31st, 2011
Shut your eyes. Imagine lazing in a steamy hot tub with someone special. The sun is setting over the picture postcard snow-capped mountains. Not a sound can be heard but the occasional bellbird call. This is 7 St James Avenue, Hanmer Springs: one of the best short holiday bases in New Zealand. In between 2011 Rugby World Cup games – this is the spot to head to recharge the batteries.
This house is an oasis in Hanmer Springs, the home of the award-winning natural spring hot pools; just past a bit north of fastest growing New Zealand wine region of Waipara, and a bit inland from the world famous whale watching area of Kaikoura.
The whales, wine and romantic hot pools make up the Alpine Pacific Triangle – just north of Christchurch international airport, gateway to the South Island.
New Zealand is famous for its bays, beaches, brilliant snow slopes and beautiful scenery. But this tiny resort town 90 minutes north of Christchurch International Airport, is a slice of NZ paradise that is fast becoming a hugely popular tourist area.
I am in heaven in Hanmer; sprawled out, wearing a just a smile and showing an all over tan, dreaming idly, sipping on a fruity Spy Valley sauvignon Blanc in this bubbly St James hot tub. I gaze out the window to a lake at my doorstep. We have a huge ensuite room and a massive flat-screen tv in the lounge with a roaring gas fire. We are loving this.
Snow lies on the ground after one of the heaviest dumping in years but the resort is tailor-made for sexy romantic couples. All my worries, earthquake after-shocks and work pressures wash away leaving us numb with pleasure. We clink our glasses and discuss our next venture before a soft kiss.
Our first step is to head to the Powerhouse Cafe, run by the stunning chef Mary Holloway. She makes the best tamarillo friands in New Zealand and she can run a restaurant blind-folded. The Powerhouse is just over the road from the old Queen Mary Hospital, which used to be a retreat for recovering alcoholics. It's a fitting tribute to substance addicts the Powerhouse Cafe does not serve alcohol.
We next set off on bikes around the town to explore; then have a game of squash at the camping ground before a walk to the summit of famous fir-clad Conical Hill for a breath-taking view over-looking the town.
Leafy Hanmer – hot in summer and snowy in winter - is a resort for families, for lovers, for romantic weekends and a place to unwind. For the more energetic, try bungy jumping, mountain-biking, jet boating, horse trekking, skiing, snowboarding, quad biking through forests, rafting, golf and fishing. Mini-golf was as adventurous as we got.
As the sun sets we make a bee-line for the thermal hot pools where about half a million visitors head every year to soak their aches and pains. She is in her fetching bikini and we are cuddled up in a quiet little hot pool as the more energetic fly down the new fun hydro slides. The pools have been used for 125 years but totally revamped in recent years. They easily are among the very best in New Zealand.
We saunter back to our St James Ave haven, kindly organised by Alpine Holiday Homes, who knew where best to place us for our brief romantic break.
Average Rating:

(0 votes)

View more Destination - New Zealand Travel Articles