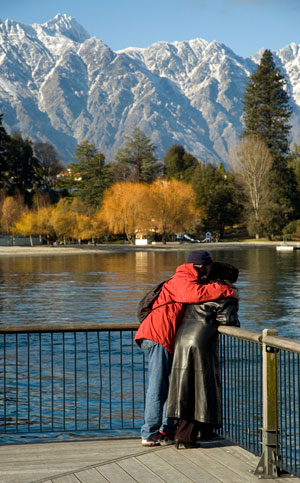 Queenstown's Romantic Adventure Bandwagon
Article submitted by wordofmouth
September 22nd, 2010
I battle desperately not to climb aboard Queenstown's romantic adventure bandwagon; but I fail miserably. Queenstown is one of the top romantic adventure destinations in the southern hemisphere. The New Zealand resort has just been voted No.1 outdoor and adventure destination in the World by Trip Advisor's 2010 Travellers' Choice awards. It also came in 15th in the top 25 destinations in the World. According to Trip Advisor, Queenstown is also the Europeans' fourth favourite destination in the world.
So I jump on a Jetstar flight and whizz in to the snow-capped, adrenalin-junkie, sexy, love-making capital of the world. At the airport my head spins. I am blown away by the staggering beauty of The Remarkables and the ampitheatre of mountains the surround this wild destination. I feel instantly seduced. It's so unfair!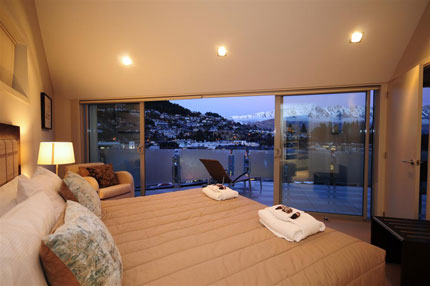 I try and resist G-force paragliding, bridge bungy jumping, heli-skiing and other heart-pumping thrills that have made it the world's best adventure destination. They toss me the keys to my little Jucy rental and I race right into town to my $800 a night Queenstown Heart luxury apartment. This is a wicked place -four big ensuited-rooms, views made in heaven and smack-bang right in town: right above a night club where it all happens. Lyndsey White, my gorgeous www.relaxitsdone.co.nz hostess, shows me how to drive the apartment. Lyndsey is from the UK and she just loves it down here. No wonder!
I slide along to Tatler Restaurant for a meal of the best fish in town and washed down with a glass of Spy Valley Envoy. Tatlers is the best in town for its type of meal. Smiley waitress Katie tells me all the right places to go.
I have another tall glass of Spy Valley and now feel brave enough to bungy jump! This restaurant is great but I cruise back to my apartment and lay back in bed gazing into town ablaze with lights, across glassy Lake Wakatipu and up the majestic snow-laden peaks...I count to three and bungy jump off the Kawarau bridge plunging deep into the gorge; I hop out of the helicopter and ski flat out down the steep snowy slopes; on to my mountain bike haring down a narrow bumpy track; then crash down the Shotover River white-water rafting....zzz: I wake from an adventure-packed dream. I'm exhausted but determined to live life on the edge here and become part of the New Zealand 3 billion dollar adventure tourism industry.
I step boldly into my shower in the biggest bathroom I have ever seen to soap and shampoo myself. Suddenly, light-bulb above the head, I decide to go ice-skating - it's dangerous; it's icy, it's sharp...and tiring. I cling to the sides all the way around then do it again and again, maybe once free-skating for two or three metres. I've done it; I've ice-skated. I now have the badge and the t-shirt: I have tasted big adventure in Queenstown.
I head back to Queenstown Heart, sip another Spy Valley chardonnay and despite it being winter I strip off to my bike briefs and slip on to a lounger on the deck: Queenstown is my oyster. I just can't get enough of this place. I haven't even turned on any of the big flat screen tvs but order a crispy-based vegetarian pizza from Chris at Bellacucina - who make the best pizzas in the world, south of latitude 45. Fresh falling snow and action-packed days put me in the mood for romance. The setting sun casts a pretty, rosy tint over the snow-capped Remarkables.
The alarm goes and it's late morning: a cruise of the TSS Earnslaw beckons. This great old ferry was launched on Wakatipu the same year as the titanic sank. It is coal-fired and one steps back to 1912 once aboard, little has changed. The views are breath-taking. Queenstown is a slice of paradise all right - for lovers and for adventure nuts. Around the grand piano at the stern, we sing aloud all the great old camp fire songs on the journey back to Steamer Wharf. In good spirits anything seems achievable in Queenstown. But it's almost time to fly home; though not before seeing the lovely Pauline Giles at Artbay who has a brilliant exhibition of home-made Kiwi art. Pauline is a great art gallery organiser.
Heading out to the airport, I make a mental note of returning next year to this battery recharging haven of Queenstown: Still so much more to do and see next time. Maybe even luging!
Average Rating:

(2 votes)

View more Destination - New Zealand Travel Articles