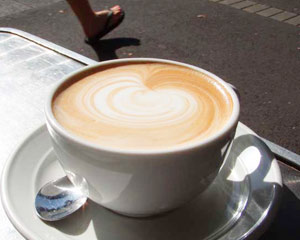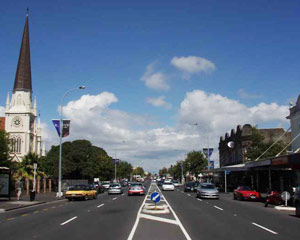 Ponsonby – Caffeinated Cultural Capital
Article submitted by Krister
March 27th, 2007
Soy latte, skinny flat white, double macchiato or just a full FAT white with extra shot to get your day rolling, Ponsonby has more cafes than you can shake a teaspoon at. Just shy of the central city, Ponsonby just happens. A well known funky area packed with cafes, funky boutiques, recording studios, galleries and great restaurants. Ponsonby is where its at …Daaaarling!!
Regardless of whether you want breakfast, snack, caffeine hit or lush dinner, Ponsonby can match ya. Variety is the spice of life, therefore for a spicy life of varied cuisine head to Ponsonby. A little known fact totally made up by the author is that over 50,000 eggs are poached scrambled or benedict-ted along Ponsonby road between the hours of 8 – 11am Sunday and Saturday (note: this statistic is totally fabricated and has no empirical proof).
Apart from the culinary creativeness you will also find some interesting shopping. Stylin' boutiques for what ever frocks you like to rock, cutting edge male fashion and there is even The Fairy Shop, happy to kit you out in fairy dresses and wings, just what you need for the next party or the Hero Parade.
Ponsonby is home to NZ's famous Hero Parade. Where the Gay community 'come out' and celebrate in gay abundance through dance, song, music and amazing multifaceted (or lack there of) costumes.
For your caffeine hit there are plenty of dealers I would recommend Ganet Rock's flat white with the newly en vogue 'Mince on toast" or Bambina Café for a coffee and a yarn.
For a lavish sit down experience head to Prego, for a Mexican fiesta you can't go past the Taqueria or for bad-ass burgers hit up Burger Fuel.
And for that cool beer in the sun after a long days work/shopping/coffee drinking, the Chapel Bar is a rad little bar with ample seating in and outside. With DJs and live music to accentuate that tasty beverage you partake in.
So for the ultimate coffee cultural experience check out where NZ's coffee culture all began. Grab a soy latte triple shot, a taco and go for a walk. The wearing of fairy wings is totally up to your own discretion!
Average Rating:

(2 votes)

View more Local Knowledge - New Zealand Travel Articles