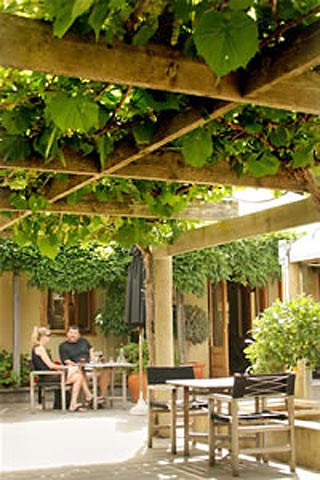 You may drag the map or use the buttons to move/zoom
Twelve Trees Vineyard Restaurant
Address:
Jacksons Road, RD 3
,
Blenheim
Marlborough
New Zealand
Phone:
03-572 7123
Website:
http://www.allanscott.com/

Download contact details to your Address Book
Cuisine: International, Winery
Average Rating:

(0 votes)

Twelve Trees Restaurant was named after the original walnut trees that lined the Jackson's Road entrance to the winery. The trees were planted by a previous owner of the property nearly 75 years ago and have always been a distinctive landmark on Jackson's Road.
The restaurant was opened in 1991 and was never intended to be a fully fledged establishment other than to provide light refreshments to accompany the wine tasting facility. 'Twelve Trees' quickly evolved from humble beginnings to be acknowledged as a leading daytime restaurant in Marlborough, celebrating the best in the province in a superb indoor/outdoor garden restaurant.
Blending beautifully with the surrounding vineyards, established trees and mountain backdrop, the restaurant is constructed in the same fashion as the original winery/cellar area from rammed earth construction providing an insulated environment that is naturally cosy in cold weather and pleasantly cool during Marlborough's hot summers.
Enhancing the excellent restaurant atmosphere is the outdoor garden area. It has an appealing permanent outdoor dining courtyard flowing onto a picnic area under shade trees. The restful feeling is created by the walled courtyard, the long water feature and garden foliage in various shades of green. A giant chessboard is at one end with the chess pieces fashioned in wine themes that are hand made from wrought iron. This perfectly compliments the estate and wonderful surroundings.
Twelve Trees Restaurant offers a constantly changing menu to reflect the seasonal specialties of the abundant Marlborough produce and compliments the range of wines for which Allan Scott has become famous. With signature dishes that have become local and international favourites the food is created in a true provincial vineyard style.

View more International Restaurants in Marlborough