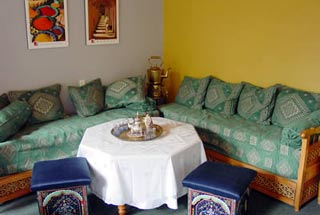 You may drag the map or use the buttons to move/zoom
Simo's Licensed Moroccan Restaurant
Address:
114 Cashel Street
,
Christchurch
Canterbury
New Zealand
Phone:
(03) 377 5001
Website:
http://www.simos.co.nz

Download contact details to your Address Book
Cuisine: Moroccan
Average Rating:

(0 votes)

Exotic fresh flavours of North Africa and the Mediterranean from renowned chef Mohamed (Simo) Abbari.
Eating in Morocco is never done alone or in a rush. It is essentially a pleasure to be shared. Time is required to connect with the family and friends, enjoy conversations that unveil ones heart, and to put the day's trouble into a clearer perspective.
Good food, made from a colourful medley of the freshest ingredients, with loving hands and hearty laughter, takes time.
To savour the many layers of herbs and spices, infused oils and fragrant waters; the sweetness of syrups, honeyed fruits and nuts, the pungent saltiness of preserved lemons and olives… to unwrap each taste as a 'gift' takes time.
So, take time to share the pleasure of eating at Simo's.

View more Moroccan Restaurants in Canterbury